Colorado Avalanche
I reversed the maroon to the blue from the official design so it accurately reverses the Nordiques white sweaters.
—Doug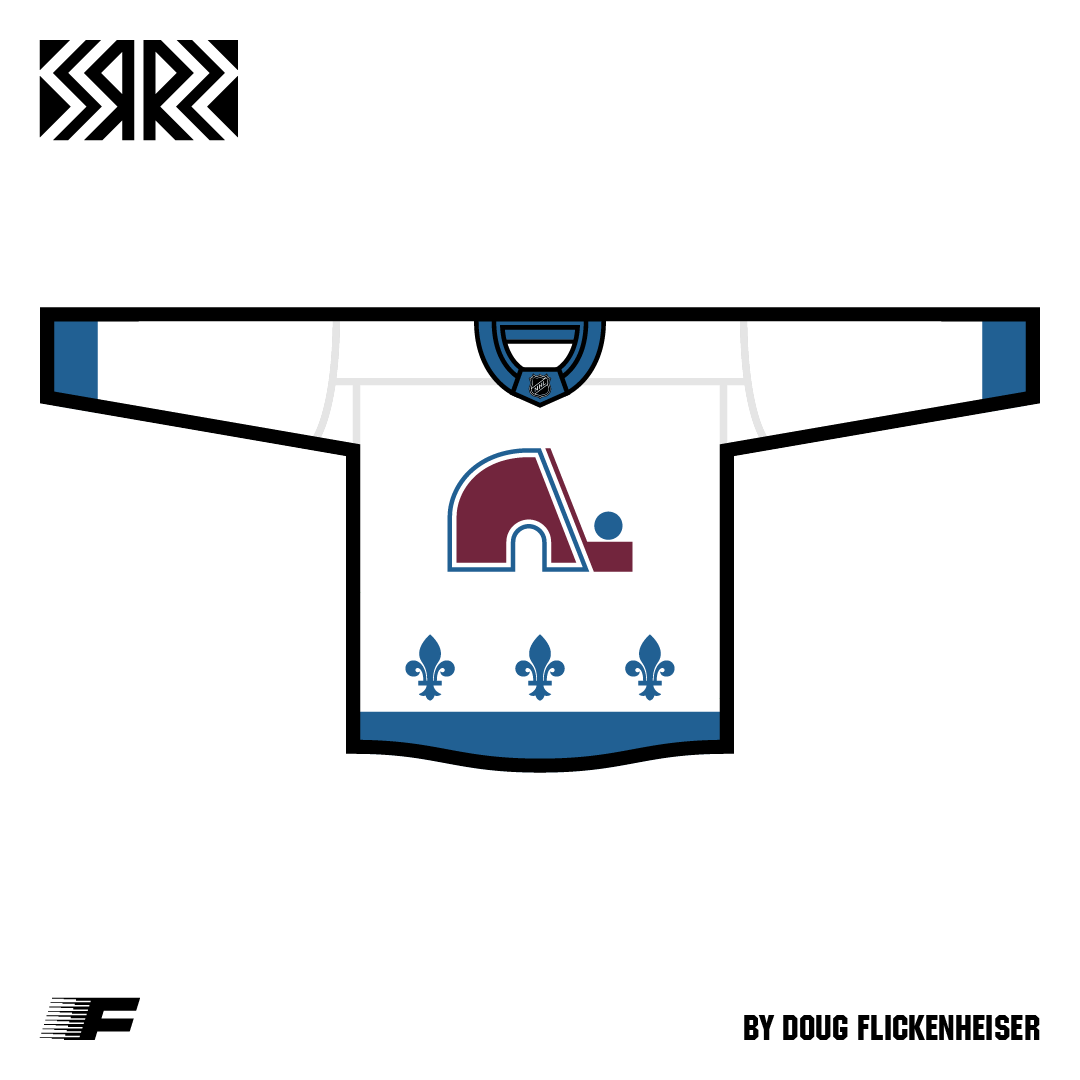 Colorado Avalanche
I did the blue version of as well.
—Doug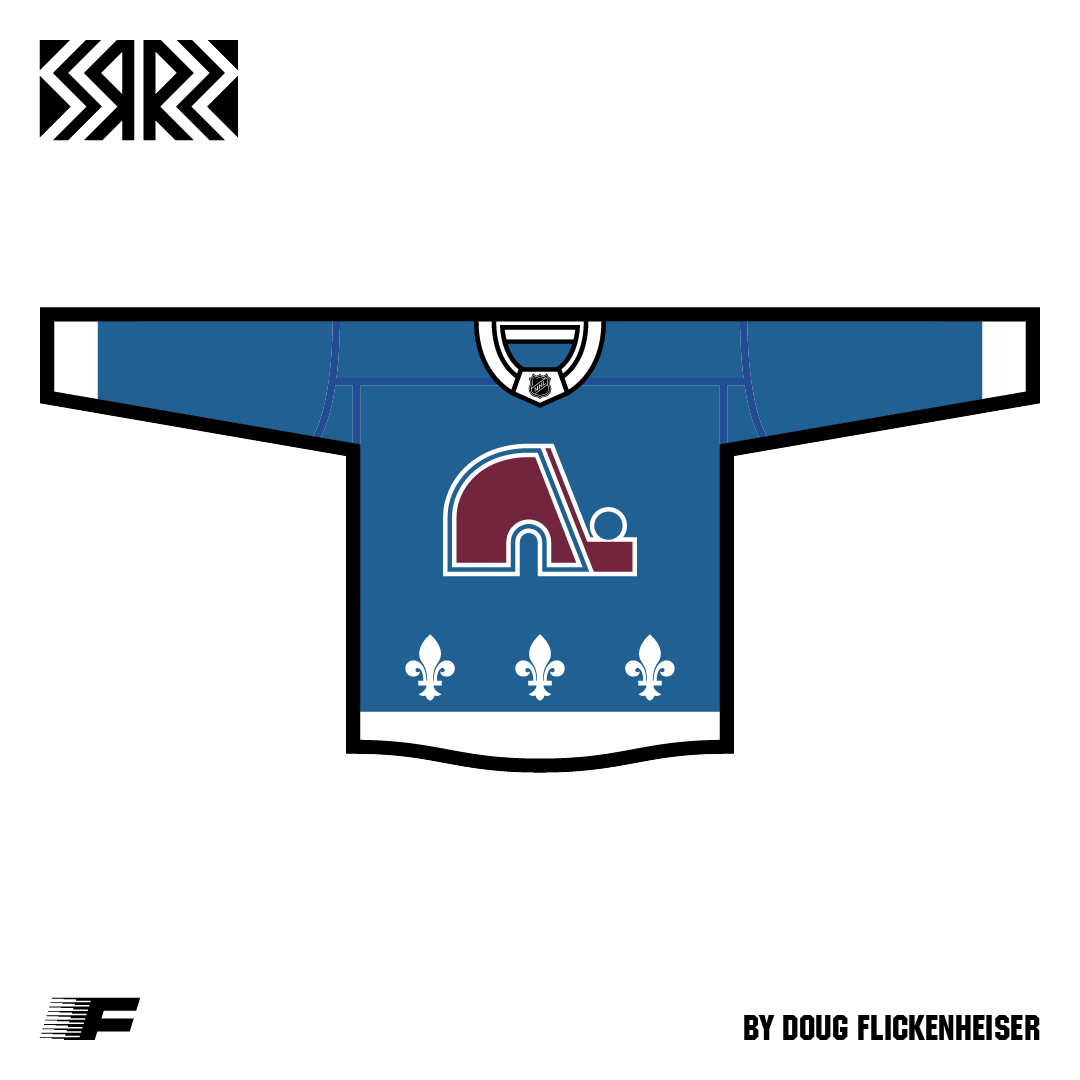 St. Louis Blues
In order to make a reverse of a Blues jersey that wasn't red, I took the designs from 1989–1994 and replaced any red with blue.
—Doug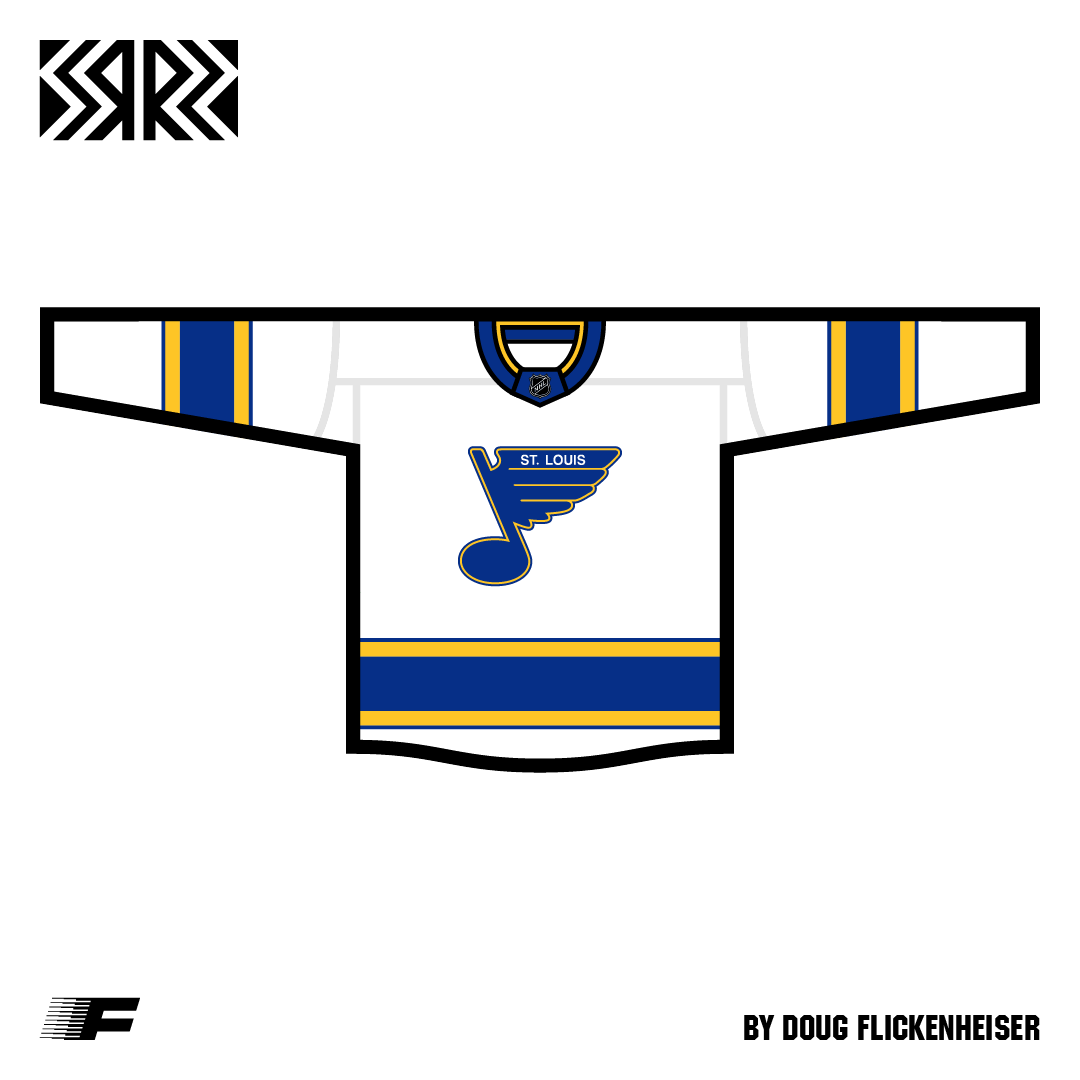 St. Louis Blues
In order to make a truly bad red Blues jersey (and use a pattern and logo that wasn't recently recreated by adidas in 2019–2020), I doubled-down by taking the worst Blues design from 1984–1985 and made it red.
—Doug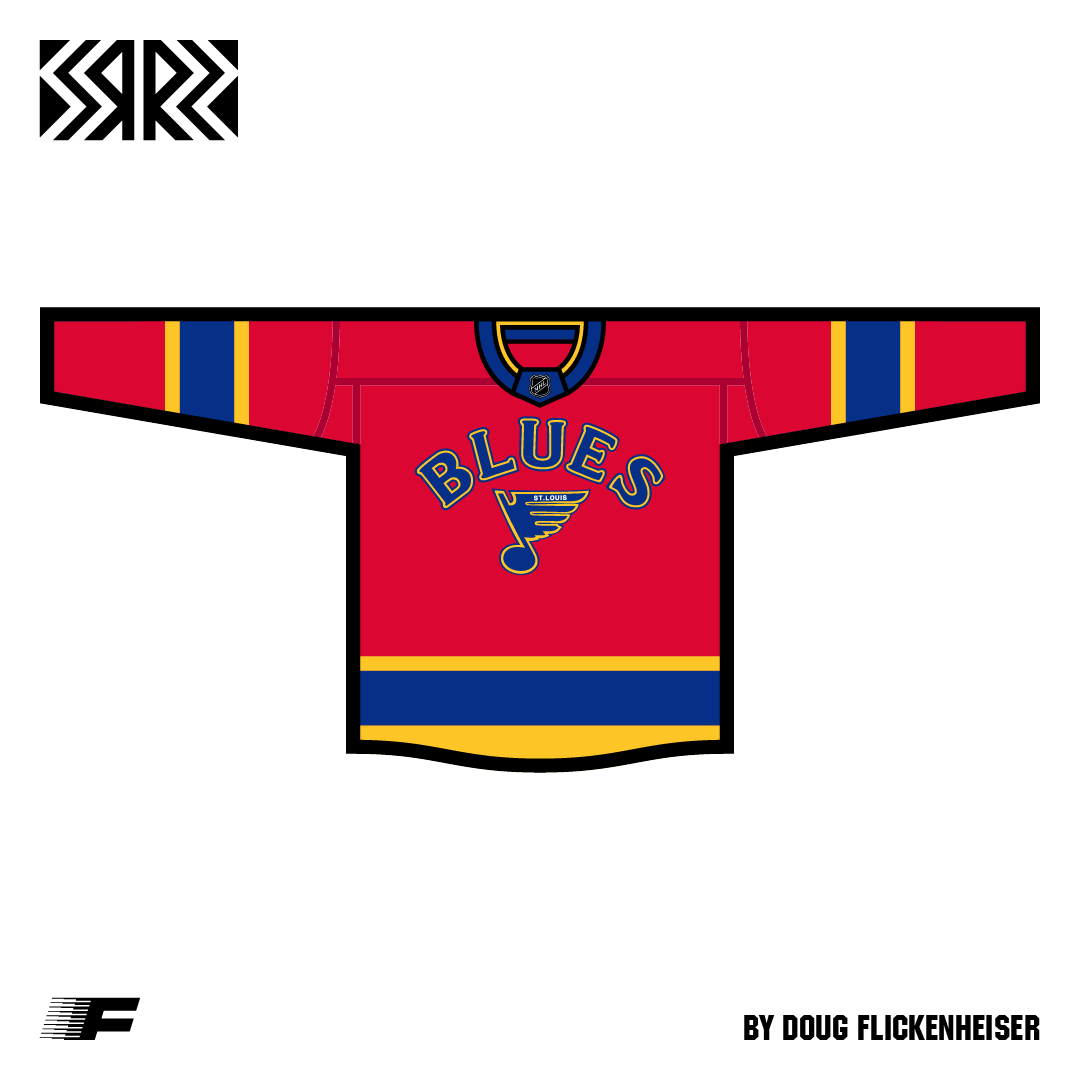 St. Louis Blues
I tried out a yellow design using the 1985–1987 Blue jersey.
—Doug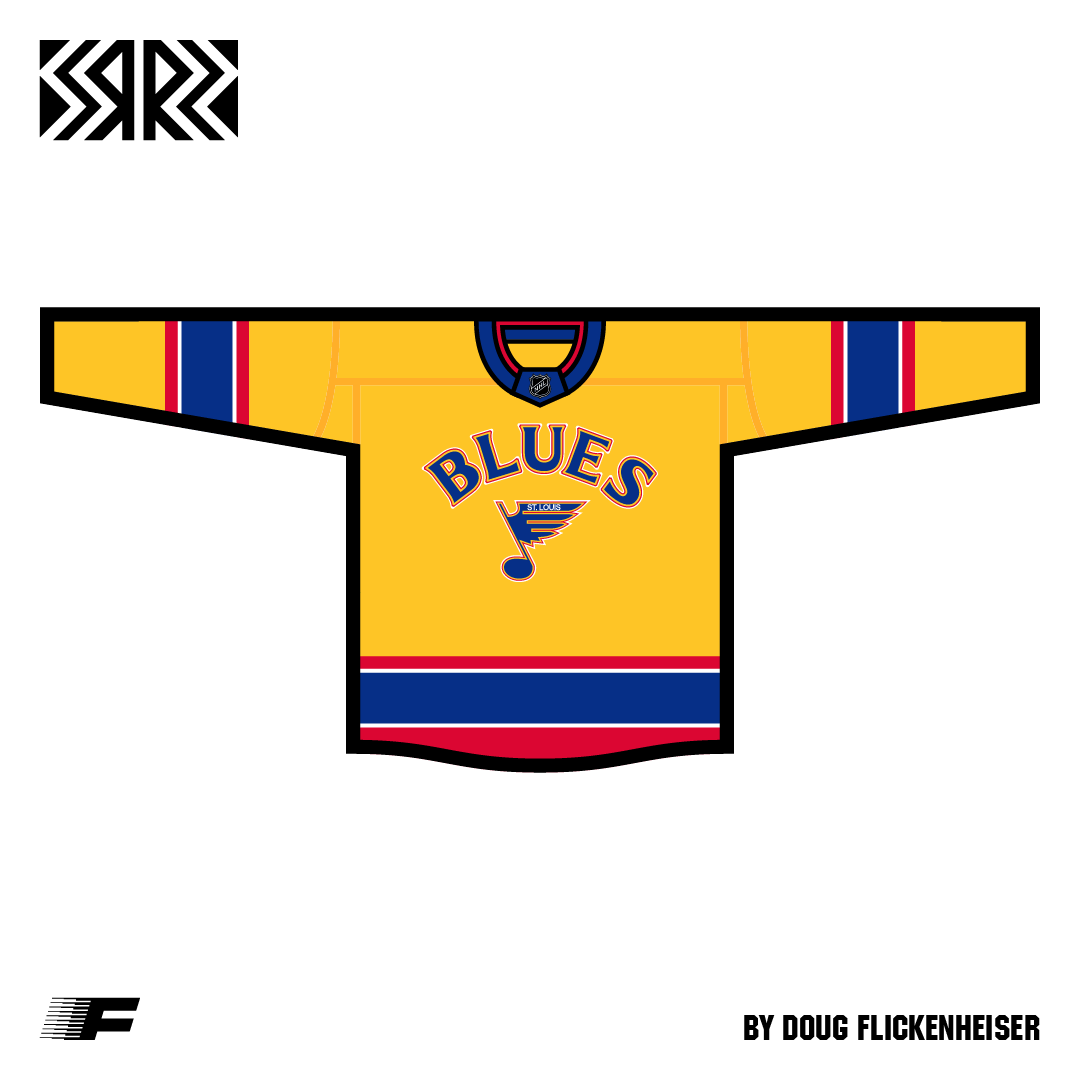 Philadelphia Flyers
I feel like I make a black version of the Flyers jersey once a year and it seems to: 1. always be good and 2. never get made. This is a basic reversal of the 1967 pattern.
—Doug
New York Islanders
I know I'm not the only who wanted TEAL FISHSTICKS but we got a worse version of the Islanders' great home jersey instead.
—Doug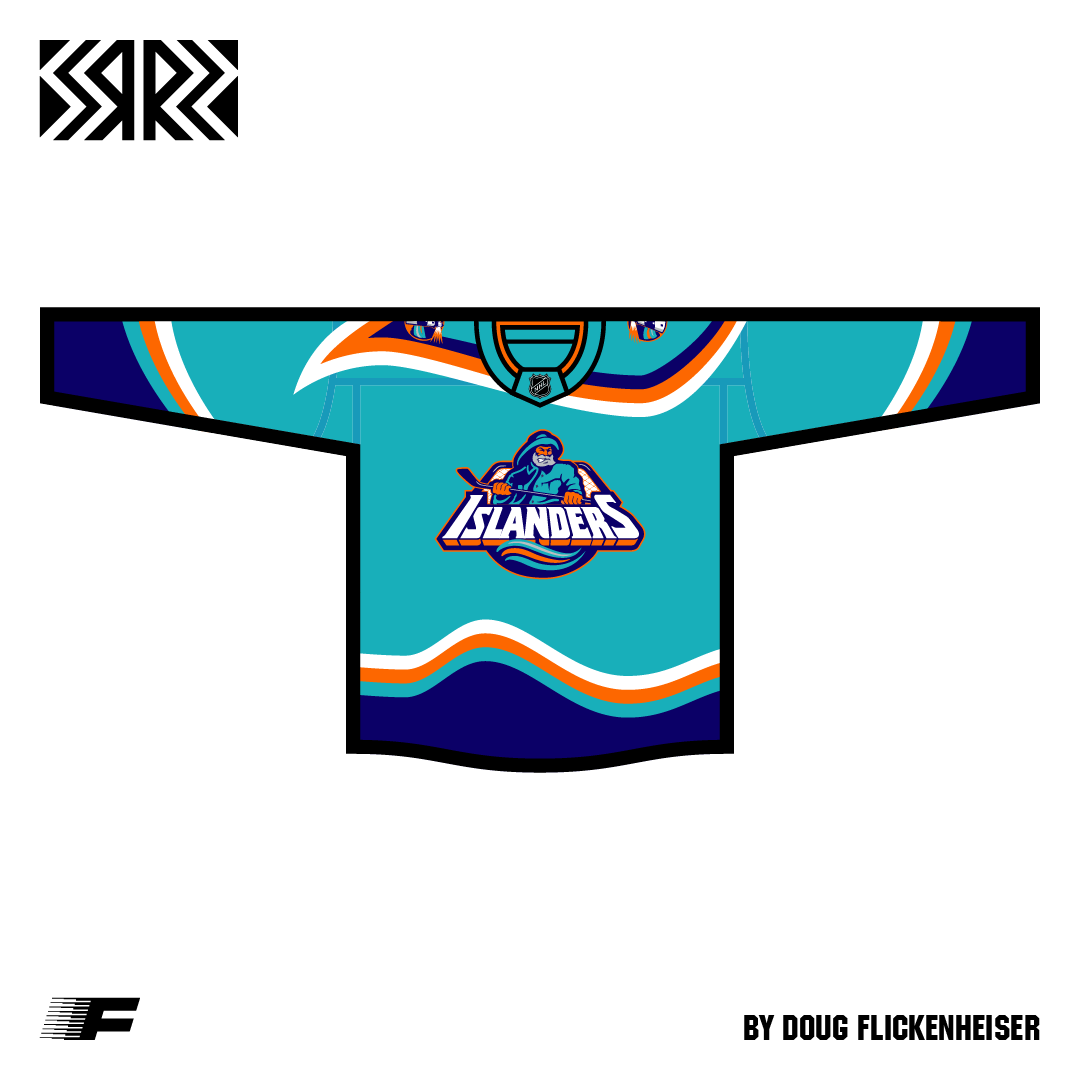 Toronto Maple Leafs
While the official design is a combo of the underrated 1970–1992 pattern with the recently revived 1967–1970 logo; I thought a white version of the 1996–1997 Maple Leaf Gardens 65th Anniversary design would be unique.
—Doug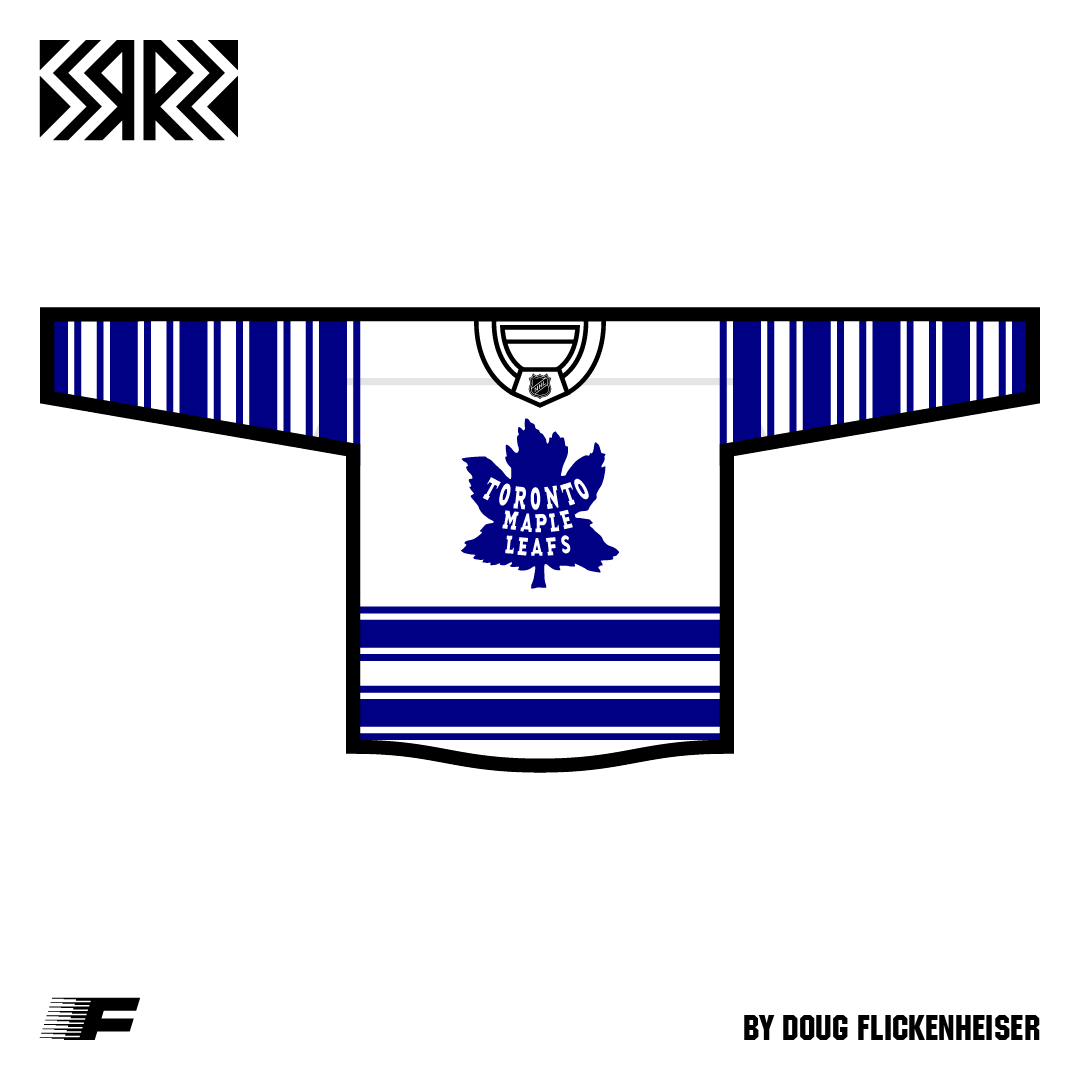 Pittsburgh Penguins
After researching and recreating lots of Penguins logos I realized why RoboPenguin is the best logo design the Penguins had. The official jersey is fine but a black RoboPenguin would've been great; and this design is based off an
unused concept from 1992
when they updated their identity 
—Doug
Pittsburgh Penguins
Gold version of the RoboPenguin. Also awesome.
—Doug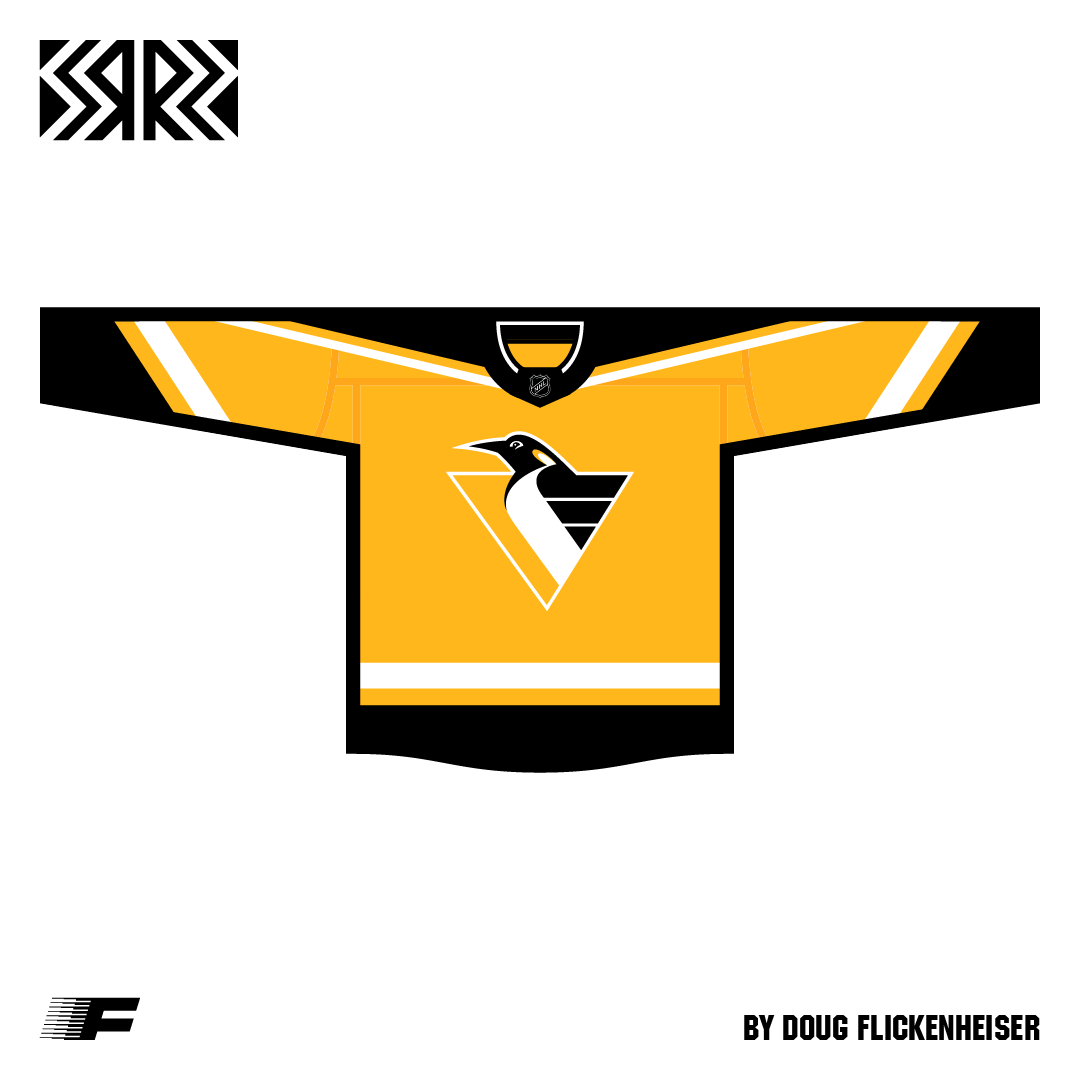 New York Rangers
While the official jersey brings back Lady Liberty which is a plus, it didn't truly reverse the design from 1996–1997 but changed the red on the sleeve to navy. A red version that actually reversed like this
90s Starter Fashion Jersey
would've been cooler.
—Doug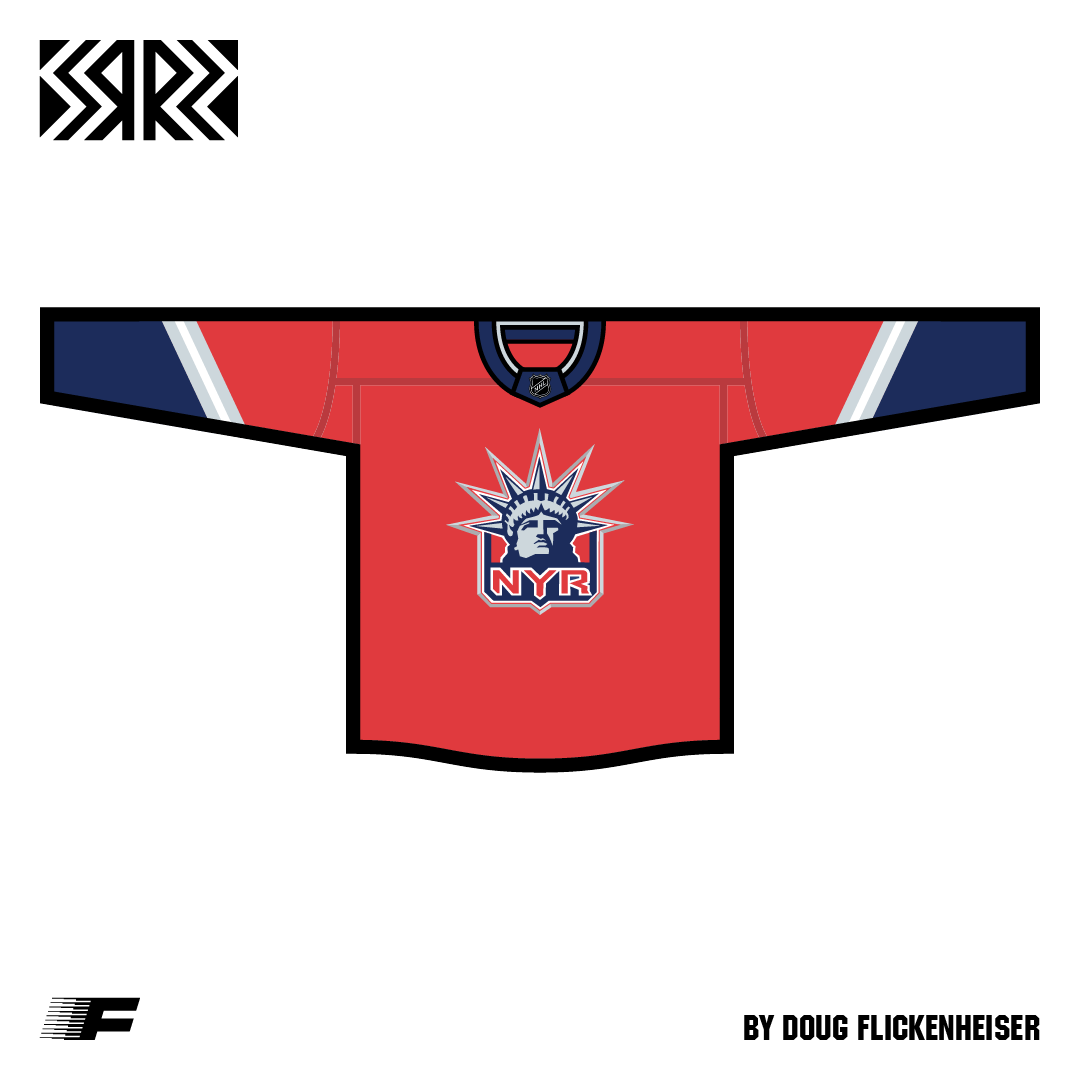 Detroit Red Wings
While the 2 color scheme is hard to "reverse" and Detroit is an Original 6 team so there's not too much variety on patterns; you shouldn't give up and make what the official adidas version did. There's some deep cuts in the Red Wings history to make something new and accurate. This concept is a reversal of the 1991–1992 75th anniversary Original 6 jersey based on the Detroit Cougars. Easy fix for Detroit's Reverse Retro and Wayne agrees—I asked him.
—Doug
Carolina Hurricanes
While Wayne and I have been suggesting to bring back the Whale (and every other person who is aware of hockey graphic design) we got to see the classic green uniforms recently and with the Reverse Retro collection we expected a great white version and then we got...gray. While most designs don't follow the reverse "rule"; the gray instead white and nothing else changes is not as cool as my concept—BLUE WHALERS. It's new! It's fresh! It should've been done!
—Doug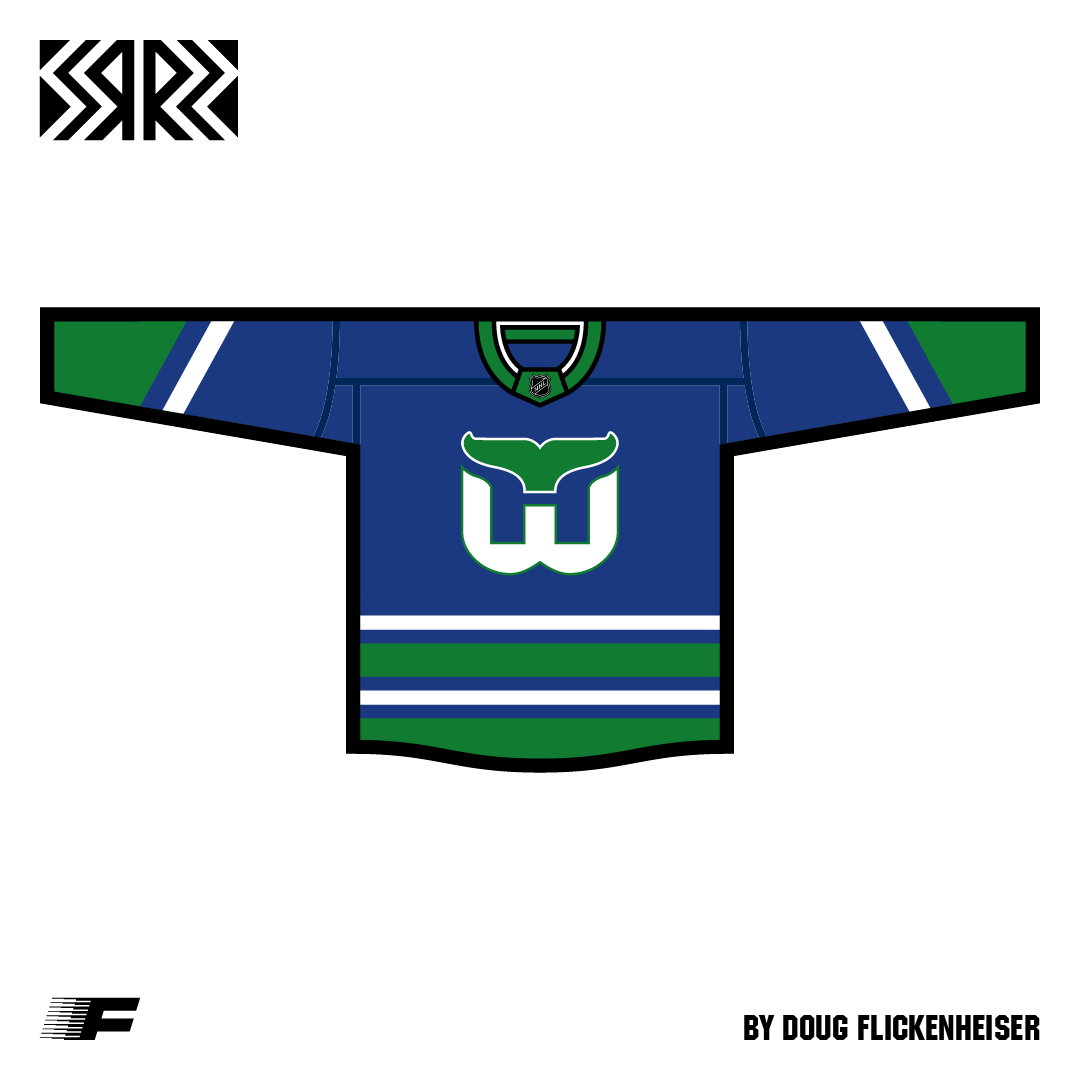 Vancouver Canucks
We all know the Canucks have started to sober up with their graphic identity recently then they used the gradient jersey for their Reverse Retro. I made a basic "combo identity" with the current colors and the 90s Laser Skate logo and pattern. Cuz 90s!
—Doug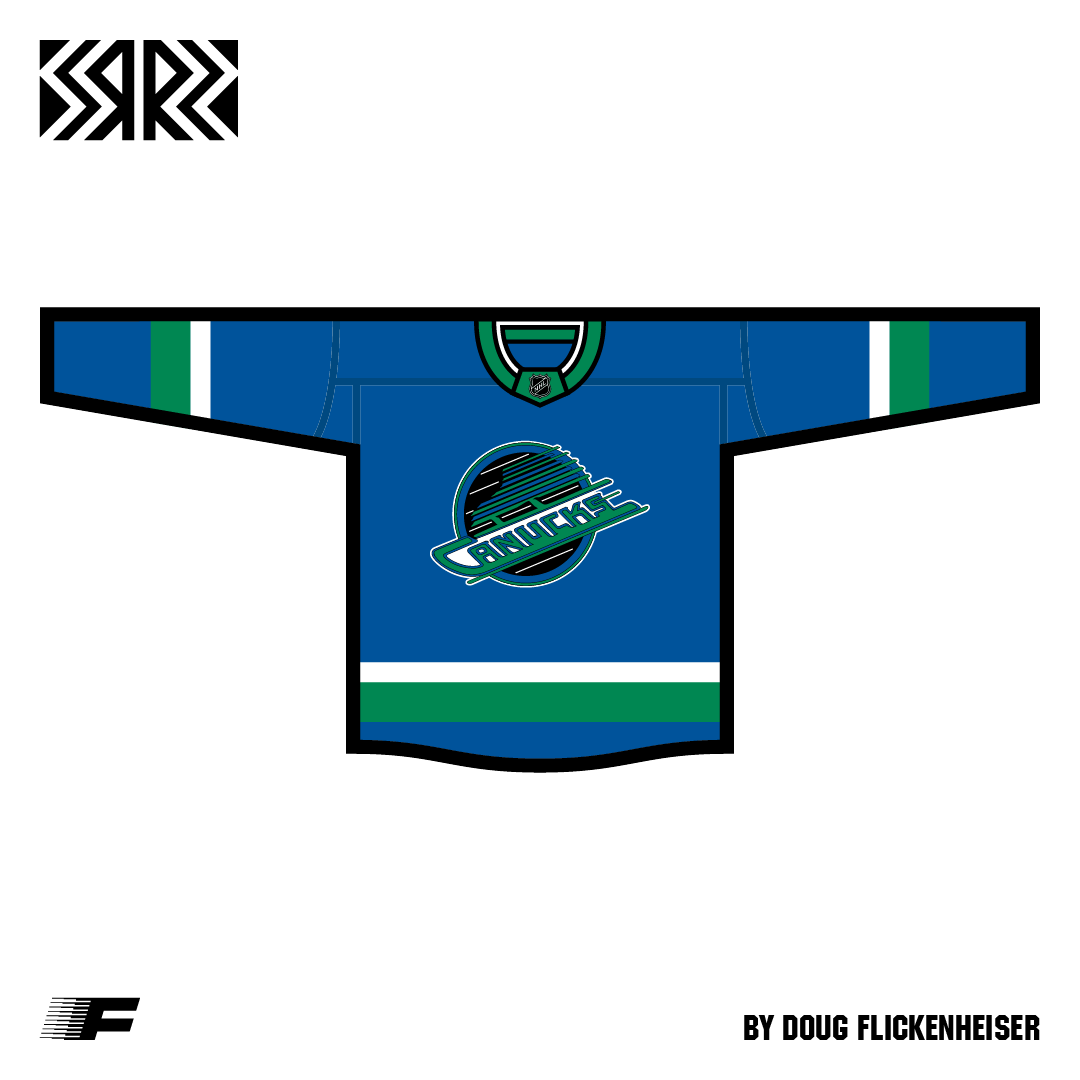 Calgary Flames
I actually reversed the 1998 third jersey. Wow. Novel Concept. 
—Doug
Winnipeg Jets
Wow. Gray and Navy Blue doesn't sound exciting for a Jets "retro" jersey and it turned out even worse. So I just did another slam dunk actual Retro Reverse wait I mean Reverse Retro...yes that's it (Retro Remix would've been a better name #changemymind).
—Doug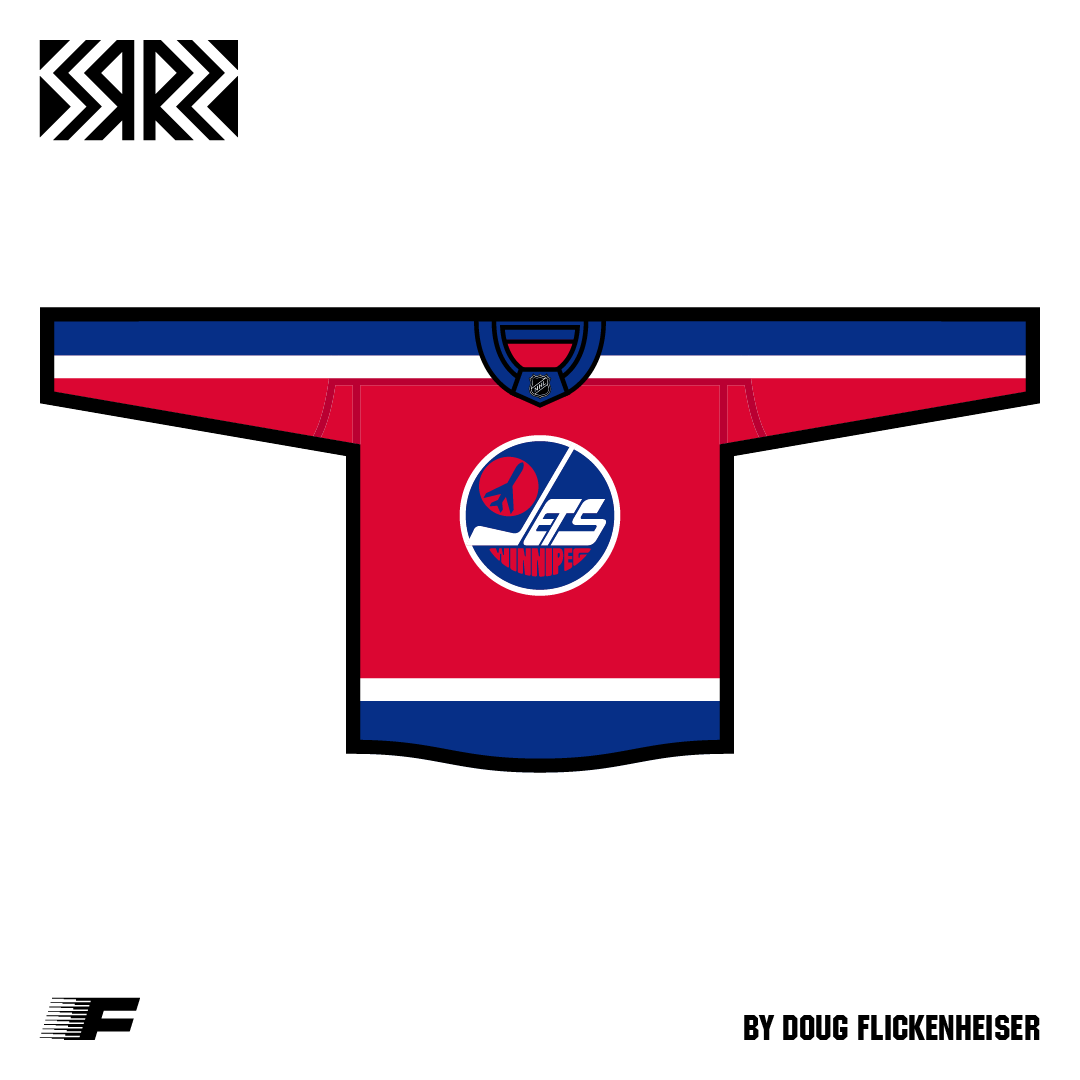 Dallas Stars
Wow. This one should've been a slam dunk for the Stars and they got the cool pattern but failed on the colors. Good thing I fixed it and actually reversed the star pattern.
—Doug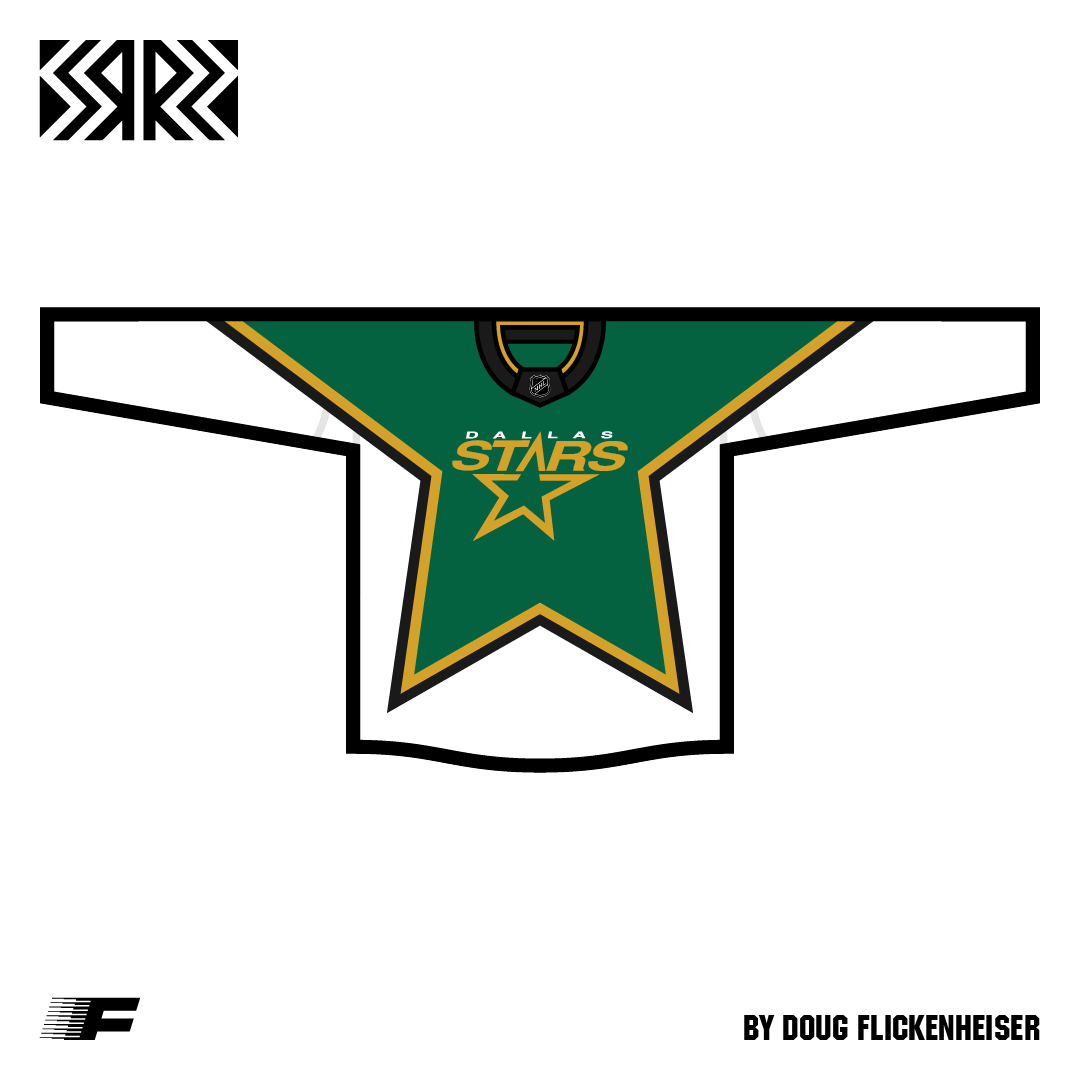 Edmonton Oilers
Oilers based on 97 sets (whites removed shoulder yolks this season too). A true reverse of the copper era. Pure a**. Love it.
—Wayne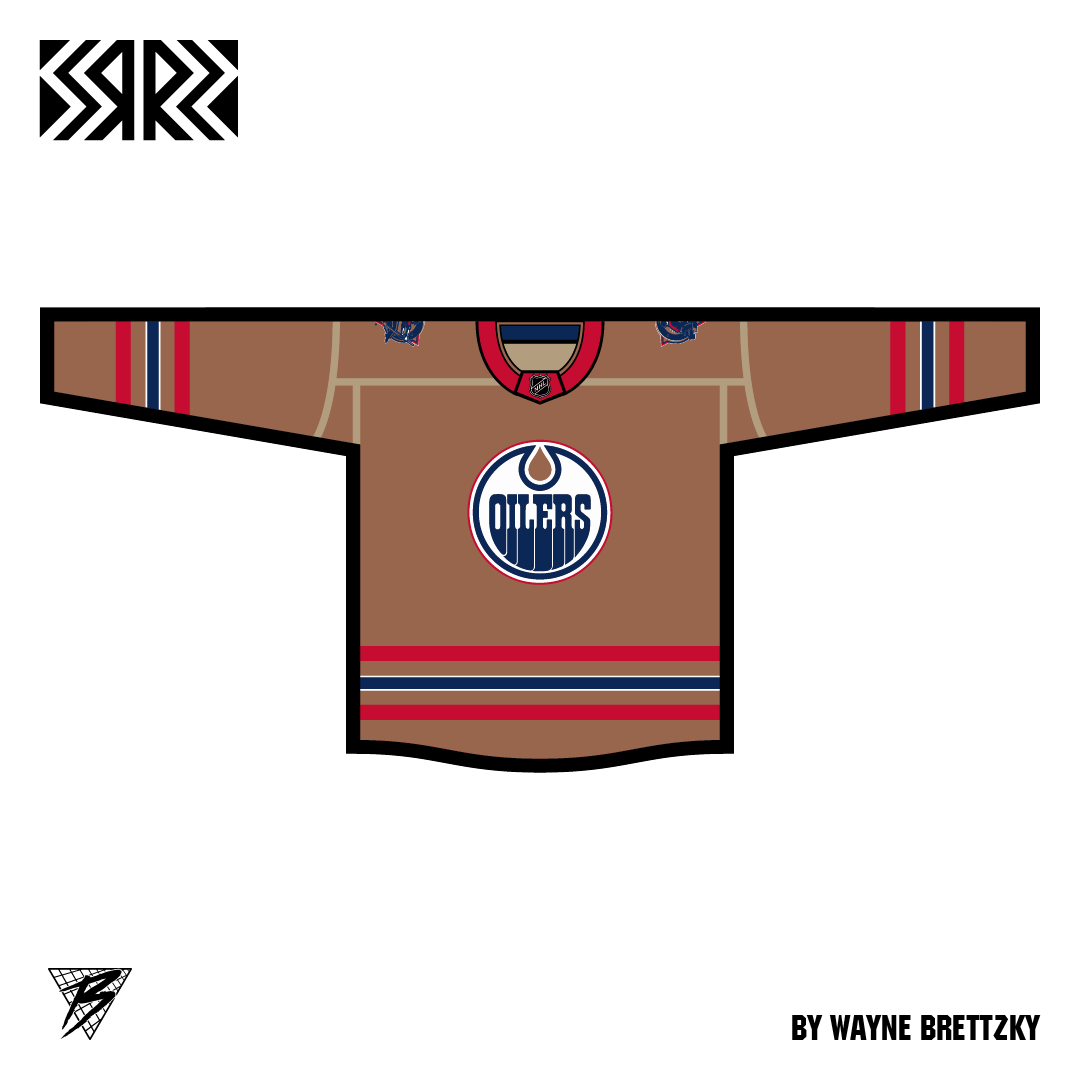 Chicago Blackhawks
Hawks is based on 97 alternate. Could argue the outline of the logo lends to the new base color and the feathers are all represented. Cause we both know there's no great way to do Blackhawks truly reversed.
—Wayne